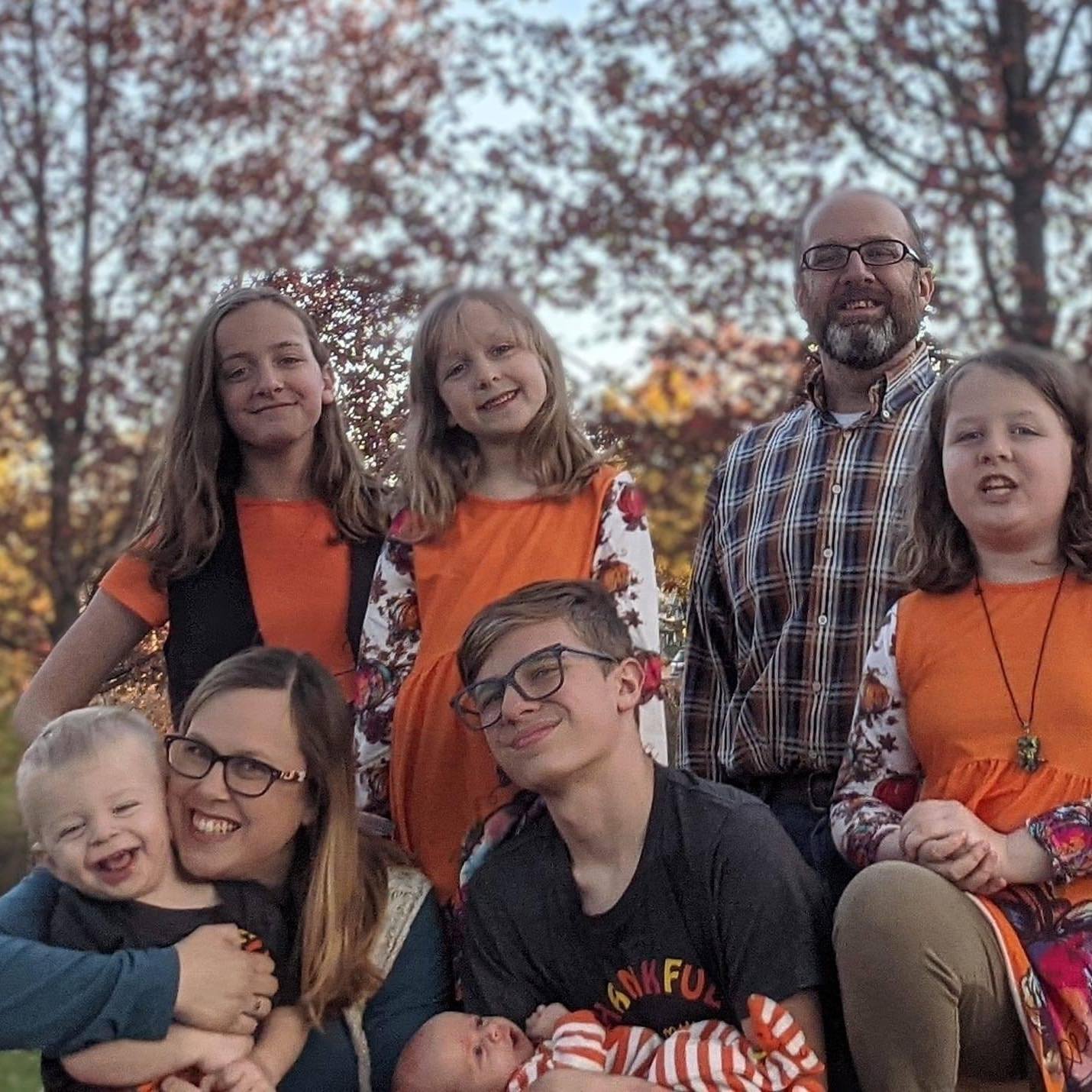 Name: Rev. Jonathan Priebe
Conference: East Ohio
Email: [email protected]
Current Appointment: First United Methodist Church, Cuyahoga Falls
Family: My wife, Kattie, and I have been married for 17 years and we have six children: Nehemiah (14), Ruth (12), Joy (10), Hadassah (8), Tobias (2), and Zebediah (11 mos).
We are blessed to be completing the adoption process for Tobias this year.
Jonathan's Vision for The United Methodist Church:
God is at work among the people of the United Methodist Church and we are in a crucible of change. Where we have done harm through exclusion, the Spirit guides us to become more inclusive. Where we have been bureaucratic and rule-bound, the Spirit guides us to embrace administrative simplicity and relational wisdom. These movements toward inclusion, simplicity, and relationality open the greatest possibilities for justice, peace, and growth in the continuing United Methodist Church. However, there is much work to be done in response to what God has begun.
We must find ways to achieve healthy accountability and processes without bureaucratic and rule-bound rigidity. Until General Conference is able to meet again, by God's grace in 2024, we must ensure that the mutually agreed abeyance of charges for matters related to human sexuality is preserved. In addition, the UMC of the future will do well to simplify our denominational structures to be more adaptive to the world around us, learning from our colleagues outside the U.S.A.
Over the last several years our world and our churches have felt a number of divergent pressures. The disconnection and social adjustments from COVID precautions, years of contentious politics, erupting tensions over racial injustice in America, already declining congregations, mistrust of institutions – not to mention the proposed separation within the UMC – have all brought about conflict and fighting and an abundance of walking away from one another. Some among us are not willing to live in a more inclusive community with others who disagree on these matters. They will need a gracious and equitable-for-all way to exit as soon as is practical.
However, the bulk of us who will remain in the United Methodist Church can serve as a city on a hill to the world showing how people can live together, love one another, and work together despite our differences. Our world sorely needs this faithful Christian witness to Jesus's prayer in John 17 and Paul's proclamation in Ephesians 4 that we Methodists can bring.
As we step into our future, I believe that the laity and clergy of the United Methodist Church are our most important assets. The challenges we face will require renewed clarity and refined vision toward our primary task as the Church of making disciples for the transformation of the world. A vital clergy community of tomorrow needs the best support, rhythms of work and rest, opportunities for ministry appointments, healthy workplaces, training and resources today – as well as robust clergy recruitment through a coherent culture of call in our churches, camps, and annual conference ministries.
I intend to lead the Church, following the winds of the Spirit, to become more truly inclusive for all persons, more practical in our administration and polity, and to give ourselves to Christ in relational ministry with one another and in the communities we serve. This will require that those of us who choose to stay must lay down the spears and swords with which we have fought one another for the last 50 years. We must beat them into plowshares, no longer fighting within the church as liberal against conservative or progressive against traditionalist but instead working together for the good of all, that we all might grow as disciples of Jesus Christ and transform the world by the power of the Good News.
Practical steps toward this vision:
To become more inclusive: As a Bishop I would use all available (though limited) powers and provisions in the Discipline toward full inclusion of LGBTQ+ persons and clergy in the UMC. This would mean:
1. Holding charges against clergy for matters related to LGBTQ+ inclusion and same-gender marriage in abeyance until such time as the restrictive language on homosexuality is removed from the Book of Discipline.
2. Allowing the clergy executive session of the annual conference(s) I would lead to have their Disciplinary power to admit clergy into provisional or full membership, regardless of the restrictive language and not interfering with that authority as the presiding officer. Not all clergy sessions will be prepared to admit LGBTQ clergy at this time, but in this particular, urgent time, those who are ready should be permitted to exercise their authority on this matter.
To become a simpler church:
1. Work toward the adoption of proposals like "US as a regional conference" to make the UMC more adaptive: https://www.umc.org/-/media/umc-media/2019/12/02/21/51/usrc-petition-onlinecopy.ashx?la=en&hash=EBC9DC690112F5C036A3CB3E88DA54B57D3BA2FA
2. Work to forge a new unity in the continuing United Methodist Church through the "emerging slimmer Discipline" and other means to update our governance rules for ministry across the world in the 21st Century: https://www.umc.org/en/content/proposed-new-general-book-of-discipline-review-documents-available
3. Consider and work toward other proposals under the guiding principle of listening more closely to non-US United Methodists on matters affecting the whole Church. https://www.christmascovenant.com/faqs
Formal Education (please also include significant Continuing Education):
B.A. in Interdisciplinary Studies (2007) – University of Akron
MDiv, Concentration in Justice and Peace Studies (2011) – Iliff School of Theology
Major Continuing Education:
Mosaix Learning Cohort – Multi-Ethnic Ministry – 2018-2019
Wesleyan Methodist Evangelism Order of the Flame – 2017
East Ohio Conference New Church Start Academy – 2012-2013
Ordination Dates and Conference of Which You Were a Member:
East Ohio: Commissioning – 2012, Ordination – 2014
Previous Work Experiences and Pastoral Appointments:
First United Methodist Church, Cuyahoga Falls – 2018-Current – Lead Pastor
               Large program-sized church
Ashland Team Ministry – 2015-2018 – Co-Pastor
               Co-Pastor with another Elder at two large pastoral-sized churches
Three Crosses: A United Methodist Fellowship – 2011-2015 – Lead Pastor
               2nd pastor of a New Church Start – merger of three family-sized churches into a large pastoral-sized church

Akron United Methodist Church – 2009-2011 – Student Local Pastor
              a  student local pastor at a family-sized church
Chase Bank – 2006-2009 – Personal Banker
MBNA/Bank of America – 1999-2006 – Business Analyst, Assistant Manager/Sales Coach
Connectional and Ecumenical Church Experiences:
Current:
East Ohio Conference Taskforce on Clergy Wellness – 2022-Present
Jurisdictional Conference Delegate – 2020-2024
East Ohio Conference Board of Ministry – 2014-Present
2020 – Present – Chair
Previous:
DCOM Secretary/Registrar, Mid-Ohio – 2014-2018
UMVIM NCJ Board Member – 2015-2016
East Ohio Conference Board of Ministry – 2014-Present;
2014-2016 – Board Development Committee
2016-2020 – Registrar of Elders
Community Service Activity:
Current:
Cuyahoga Falls Ministerial Association – 2018-Present
Previous:
Mayor's Taskforce on Religious Diversity – 2018-2020
Ashland City Schools, Chess Coach – 2015-2018
Discovery School, Chess Coach – 2013-2015
Clear Fork Youth Soccer League – Coach – 2012-2015
Worthington Township VFD Chaplain – 2014-2015
Butler Merchants Association, Treasurer – 2013-2015
Lions Club – 2009-2015
Royal Family Kids' Camp counselor – 2005-2007, 2016
Publications, Awards, Honors:
The Real War on Terror, Wipf and Stock, 2006
Special Interests and/or Hobbies:
Walking and playing with our great dane, singing, biking, hiking, reading, genealogy and history